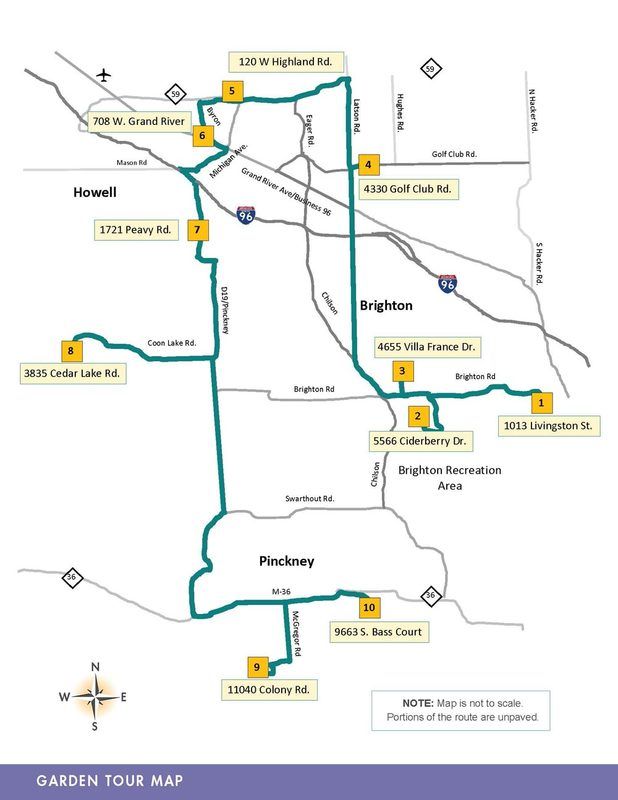 Your Guidebook
You will receive a 2018 Garden Tour Guidebook when you purchase your ticket. It includes a bouquet of information about our special 20th Anniversary Garden Tour happenings. A complete description of each garden stop is provided, as is a large map. Happy touring!
1. ADAMS GARDEN
1013 Livingston St, Brighton
Nearest Crossroads: Livingston St. and South 7th
2. HODGSON GARDEN
5566 Ciderberry Dr, Brighton (Copperleaf Subdivision)
Nearest Crossroads: Brighton Rd and Mountain Dr
3. INGRAM GARDEN
4655 Villa France Drive, Brighton (Villas of Oak Pointe Subdivision)
Nearest Crossroads: Brighton Rd and Chilson Rd
4. SPECIALTY GROWERS
4330 Golf Club Road, Howell
Nearest crossroad: Latson Road
5. LACASA COLLECTION
120 W. Highland Road (M-59), Howell (Kroger/Crossroads Town Center)
Nearest Crossroads: Michigan Ave/Oak Ridge
6. JAGDFELD GARDEN
708 W. Grand River Ave, Howell
Nearest Crossroads: Byron Rd and Grand River
7. O'SHAUGHNESSY GARDEN
1721 Peavy Road, Howell
Nearest Crossroads: Keddle & D-19 (0.3 miles north of Keddle)
8. GREIGER GARDEN – Anniversary Feature Garden
3835 Cedar Lake Road, Howell
Nearest Crossroads: Coon Lake Rd and Cedar Lake Rd
9. CUTLER GARDEN
11040 Colony Rd, Pinckney (Colony Shores Subdivision)
Nearest Crossroads: Darwin and McGregor
10. WILSON GARDEN
9663 S Bass Ct., Pinckney MI (Bass Ridge Subdivision)
Nearest Crossroad: M36 and Hooker Rd
Presented by LACASA and Cooper & Binkley Jewelers. You could win a $6000 Diamond. You need not be present to win. All Denim & Diamonds raffle and event proceeds stay local and help victims of child abuse and interpersonal violence from our community

Celebrate our 20th Anniversary of Garden Tour on July 14 & 15. Get ideas and inspiration as you tour unique garden spaces throughout Livingston County.

June 2 & 3, 2018 ~ Come out for free family fun at the CAP Kids' Fair. Our Child Abuse Prevention Council hosts a free awareness and activity tent all weekend for children and parents during the Pinckney Art Fair.