Libraries Display Clothesline
Project in April
Survivors Express Feelings through Art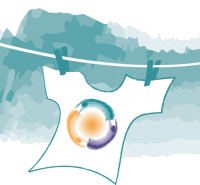 We invite you to visit your local Livingston County library in April to view our Annual Clothesline Project displays. LACASA constructs these displays each year as part of National Sexual Assault Awareness Month and National Child Abuse Prevention Month.
Our Community Education Department collaborates with the libraries to set up the displays, which present T-shirts created by victims and survivors from LACASA Center. Each shirt is an original work of art and serves as a reminder that interpersonal violence affects individuals, families, friends, and the entire community.
We appreciate the annual support of our county libraries in sharing the stories of abuse victims expressed through art.
On display during April at the following sites:
Brighton Area District Library
Fowlerville District Library
Hartland Cromaine Library
Howell Carnegie Library
Pinckney Community Library
Hamburg Library
Also at LACASA Center
About the International Clothesline Project
A group of women on Cape Cod, Massachusetts started the Clothesline Project in 1990 after hearing that while 58,000 soldiers died in the Vietnam War, there were 51,000 women killed around the same time by men who claimed to love them.
This statistic motivated the women to create a program that would speak to and reveal the issue of violence against women. Many of the women had personally experienced violence and wanted to find an unprecedented way of educating others on this matter. One of the women thought of hanging t-shirts on a clothesline to gain recognition of the issue. It was naturally the thing to do since women were known for doing laundry and exchanging information while their clothes were hanging out to dry.
Each woman would have the opportunity to tell her story by decorating a shirt with words and art that represented her experience. She would then hang the shirt on a clothesline for the world to view. The earliest project exposed 31 shirts in Hyannis, Massachusetts as part of the annual "Take Back the Night" March and Rally in 1990. Since then, The Clothesline Project has turned into an international campaign.
November 1 - December 17 ~ We invite you to be part of our "Starry Night" Holiday Toy Drive at the LACASA Collection, our unique resale boutique in Howell. Your donation will bring holiday cheer to a child in need at LACASA Center.