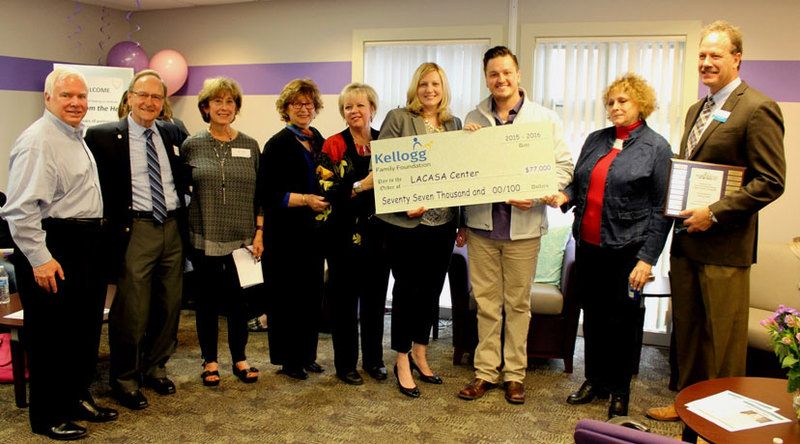 February 17, 2017 — LACASA hosted a Gifts from the Heart open house luncheon today to celebrate its 12-year relationship with the Kellogg Family Foundation. The foundation, which has partnered with LACASA over the years to provide parent education classes and home visiting programs for at-risk families, has now expanded its support to other programs and services offered by the agency.
In addition to funding the Fathers Only and Nurturing Parenting classes, this year the Kellogg Family Foundation provided a $20,000 matching grant for LACASA's annual giving campaign, which generates funding for all three of LACASA's service areas – child abuse, domestic violence and sexual assault. The foundation also is supporting the agency's Pinwheels for Prevention child abuse awareness campaign in April.
"We are thrilled to be able to support such important programs within our community," said Thomas M. Kellogg, DDS, of Howell who founded the Kellogg Family Foundation in 2004 to honor his parents' memory. "Each of the programs we support at LACASA is designed to provide parents with skills and knowledge they need to raise safe, healthy children and prevent abuse and neglect."
Dr. Kellogg took one of the parenting classes 12 years ago when he, like so many parents, felt the pressures of fatherhood.
"After the class," said Kellogg, "I felt so strongly about the program and the teachers that I knew I had to be part of making this wonderful gift available to everyone!"
Kellogg says the programs provided benefits, knowledge and hands-on skills for him and his family not available anywhere else.
Since 2004, Kellogg Family Foundation has contributed more than $300,000 to LACASA's parent education and home visiting programs and is now helping fund other critical programs.
"We are incredibly grateful to have this partnership with Dr. Kellogg and the Kellogg Family Foundation," said Bobette Schrandt. "The support they've given over the years has helped us educate thousands of parents, enhancing their ability to nurture and bond with their children and creating stronger families."
Several individuals who have benefited from the programs supported by Kellogg Family Foundation spoke at the luncheon, as did Schrandt and other LACASA staff members whose work is directly touched by the generosity from Kellogg.
Jan Lobur, LACASA parent educator and certified prevention specialist, has had the privilege of working with Dr. Kellogg since he first began supporting the parenting classes.
"Dr. Kellogg truly understands and appreciates the importance of giving parents the tools they need to be successful," said Lobur.
"Many of the parents in our classes come to us because of their desire to be the best parents they can be," Lobur shared. "Others come to us because they struggle with challenges as a result of having experienced abuse or other negative situations in their own upbringing. Dr. Kellogg has a real heart for these parents and families, and it shows."
Information about the Kellogg Family Foundation can be found at kelloggfamilydentalfoundation.com.
Save
Save
Save
Save