Help brighten a child's holiday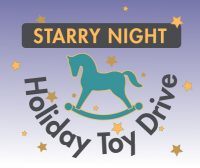 We invite you to be part of our "Starry Night" Holiday Toy Drive at the LACASA Collection, our unique resale boutique in Howell.
Your donation of a new, unwrapped toy will make the holidays brighter for a child in need at LACASA Center.
Place a new, unwrapped toy under our giving tree
Write your name or initials on a star ornament
Hang your star on the tree
Get a twinkling store discount offer
LACASA Center clients will receive a holiday toy shopping voucher, which will ensure Santa is prepared with everything he needs for his big sleigh ride.
The toy drive kicks off on Nov. 15 and ends on Dec. 15. You may request a tax receipt when you bring in your donation.
Visit the Collection's website to get store hours and location information.
Thursday, June 20 ~ Join us for a summer evening with local wordsmiths and storytellers as they weave tales that entertain and inspire. This is a fundraising event for LACASA Center hosted by Maria Stuart, editor of The Livingston Post, and Mona Shand, journalist and communications consultant.