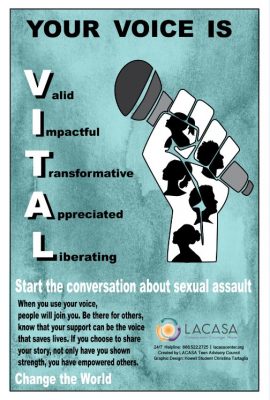 Our Youth Prevention Department works with teens in area high schools to increase awareness about the myths and misinformation surrounding sexual assault and ways to support and advocate for survivors.
Each year, LACASA Center's Teen Advisory Council develops a new campaign, which is designed specifically to reach teens at local high schools in Livingston County. Awareness activities are held at the high schools in early spring to spark conversations leading up to National Sexual Assault Awareness Month, which is in April.
The theme for this year's campaign is "Your Voice is Vital." Awareness and information tables will be set up during school lunch periods. LACASA staff, teen council members and trained volunteers host the tables and help display and distribute materials.
The graphic design for this year's campaign was created by Howell High School student Christina Tartaglia. "This is the first year that the Teen Advisory Council held a graphic design competition for students," said LACASA Youth Prevention Services Coordinator Kayla Grant. "The teens wanted to empower other students to be part of something bigger and to learn from this experience."
The Youth Prevention Department and members of the advisory council present workshops and awareness activities at all area high schools. including:
Brighton High School
Fowlerville High School
Hartland High School
Howell High School
Howell Freshman Campus
Pinckney High School
Flex Tech High School
Kensington Woods High School
LEGACY
Non-traditional schools
The campaign aims to empower students and encourage them to use their voice as advocates in three ways:
Share Awareness: When you use your voice, people will join you
Support Survivors: Be there for others and know that your support can be the voice that saves lives
Show Strength: If you choose to share your story, not only have you shown strength, you have empowered others
The final message for students is that if they have experienced assault, they can speak about their experience, be supported, and possibly encourage others to tell their stories.
If you would like to learn more about LACASA's Youth Prevention program call 517-548-1350 or email teens@lacasacenter.org