Get involved & show your support
LACASA Center invites individuals, businesses and organizations in Livingston County to participate in Denim Day on the last Wednesday in April.
This year, Denim Day is on Wednesday, April 29, 2020.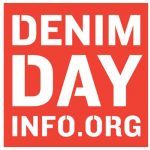 The Denim Day campaign began after an Italian Supreme Court ruling overturned a previous rape conviction. Justices in the case said that since the victim was wearing tight jeans, she must have helped her rapist remove them, thereby implying consent.
Each year, around the anniversary date of the court's ruling, organizations, businesses, elected officials, and people around the world wear blue jeans to raise awareness about sexual assault, consent and victim-blaming.
---
Denim Day 2020 Goes Virtual
We invite you to join us in a virtual competition this year to recognize Denim Day.
On April 29th, post a picture of you, or your family, wearing denim to Facebook or Instagram, tag LACASA, and use hashtag #LivCoDenimDay.
A posted picture will be randomly selected as our Denim Day winner of a $50 Amazon gift card! Winner will be announced May 1st.
---
What you can do


For Employers: Ask your employees to make an online donation to LACASA in exchange for wearing jeans to work on Denim Day. Or, pool your employee donations, match them, and make a collective gift in the name of your company and its employees. You also can start a workplace Denim Day Collection Drive for items that LACASA needs on its Wish List.
For Employees: Ask your workplace to get involved and join the Denim Day movement.
For Individuals: Ask your workplace to get involved and join the Denim Day movement. You can start a collection drive for items on our Wish List, or organize a fundraising drive.
Sign-Up: Register your group as a Denim Day participant on DenimDayInfo.org
Share: Post your Denim Day photos on LACASA's Facebook, Instagram or Twitter pages and use the hashtag #DenimDayLivCo
Get Posters & Stickers: If you–or your workplace or group–would like complimentary Denim Day posters and stickers to distribute, contact LACASA's Community Education Department @ 517-548-1350 or commed@lacasacenter.org.
October 2020 ~ Display purple lights at your workplace or residence to show support for local abuse victims and survivors during National Domestic Violence Awareness Month.