We began simply and humbly
A grass-roots group of concerned citizens saw the need to provide shelter for victims of domestic violence, and they answered the call.
LACASA was formed in 1979 with $40 in donations, one desk and borrowed office space.
Volunteers opened their homes to provide shelter for women and their children who were victims of domestic violence.
In 1981, LACASA officially was established as a 501(c)3 nonprofit organization.
LACASA leadership worked to build community awareness and garner increased financial support. Their efforts paid off and the first official LACASA shelter opened in 1983. It did not take long, however, for the original shelter to outgrow its small capacity.
A citizen's advisory committee quickly formed to study the feasibility of purchasing a larger house, one that would serve as a shelter and also include space for the LACASA offices. A capital campaign ensued, and a new home was purchased.
Quaint Two-Story House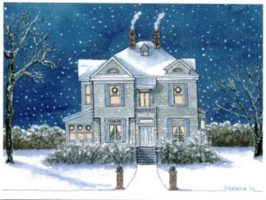 In 1986, a quaint house on a tree-lined street became LACASA's new shelter. The home's exact location was kept secret for the protection of victims. Shelter residents lived upstairs, and the organization's staff worked downstairs.
The shelter began to thrive as new counseling and educational programs were added. Support groups grew in frequency and size. The staff expanded to meet the demand for services. New programs emerged to help victims rebuild their lives.
It became clear that abuse victims and their families needed far more than a place to stay. If they were to thrive—not just survive–they needed ongoing counseling, support, legal advocacy, and life-enhancing resources.
2000 Capital Campaign
LACASA began a capital campaign in 2000 to raise funds for a new facility that would serve the diverse needs of abused children, victims of domestic violence and victims of sexual assault.
This community-wide undertaking became the largest "Raise the Roof" giving campaign in the history of Livingston County. The enthusiasm and outpouring of support for LACASA was palpable.
At the culmination of this massive fundraising endeavor, the campaign earned $2.8 million, far exceeding the organization's original goal.
The new LACASA center opened in 2002, with the shelter, children's center, counseling center, and administrative offices under one roof…at long last.
LACASA's New Center
LACASA Center now operates within a custom-designed facility that meets the unique needs of the children and adults we serve.
This state-of-the-art center offers victims and survivors a safe place to seek sanctuary, receive 24-hour crisis response, obtain counseling, gain valuable resources, and change the future of their lives.
We invite you to explore our premier programs and services. Please also consider making a generous donation to LACASA. You will change the lives of all who enter here.
Two Dynamic Nonprofits Join Forces
LACASA and the FRC Merge
LACASA and the Family Resource Center entered into an acquisition/merger in December, 2011, to better serve children, parents and the Livingston County community.
The FRC staff brings expertise in the areas of early childhood development, parenting education and community prevention programs. We continue to operate under the LACASA name.
Legal Name Change
When our organization first formed, it was called the Livingston Area Council Against Spousal Abuse (L.A.C.A.S.A.). As our scope of services grew to include survivors of child abuse and sexual assault, it became clear that we needed to change our name.
In December, 2011, our Board of Directors officially approved a legal name change.
Today we are simply known as LACASA Center or LACASA.
Since then, we have gone on to accomplish many things. View our historic timeline to learn more.