We began simply and humbly
A grass-roots group of concerned citizens saw the need to provide shelter for victims of domestic violence, and they answered the call.
LACASA was formed in 1979 with $40 in donations, one desk and borrowed office space.
Volunteers opened their homes to provide shelter for women and their children who were victims of domestic violence.
In 1981, LACASA officially was established as a 501(c)3 nonprofit organization.
LACASA leadership worked to build community awareness and to garner increased financial support. Their efforts paid off and the first official LACASA shelter opened in 1983. It did not take long, however, for the original shelter to outgrow its small capacity.
A citizen's advisory committee quickly formed to study the feasibility of purchasing a larger house, one that would serve as a shelter and also include space for the LACASA offices. A capital campaign ensued, and a new home was purchased.
Quaint Two-Story House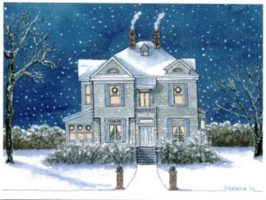 In 1986, a quaint house on a tree-lined street became LACASA's new shelter. The home's exact location was kept secret for the protection of victims. Shelter residents lived upstairs, and the organization's staff worked downstairs.
The shelter began to thrive as new counseling and educational programs were added. Support groups grew in frequency and size. The staff expanded to meet the demand for services. New programs emerged to help victims rebuild their lives.
It became clear that abuse victims and their families needed far more than a place to stay. If they were to thrive—not just survive–they needed ongoing counseling, support, legal advocacy, and life-enhancing resources.
2000 Capital Campaign
LACASA began a capital campaign in 2000 to raise funds for a new facility that would serve the diverse needs of abused children, victims of domestic violence and victims of sexual assault.
This community-wide undertaking became the largest "Raise the Roof" giving campaign in the history of Livingston County. The enthusiasm and outpouring of support for LACASA was palpable.
At the culmination of this massive fundraising endeavor, the campaign earned $2.8 million, far exceeding the organization's original goal.
The new LACASA center opened in 2002, with the shelter, children's center, counseling center, and administrative offices under one roof…at long last.
Two Dynamic Nonprofits Join Forces
---
LACASA and the FRC Merge
LACASA and the Family Resource Center entered into an acquisition/merger in December, 2011, to better serve children, parents and the Livingston County community.
The FRC staff brings expertise in the areas of early childhood development, parenting education and community prevention programs.
Legal Name Change
When our organization first formed, it was called the Livingston Area Council Against Spousal Abuse (L.A.C.A.S.A.). As our scope of services grew to include survivors of child abuse and sexual assault, it became clear that we needed to change our name.
In December, 2011, our Board of Directors officially approved a legal name change.
Today we are simply known as LACASA Center or LACASA.
Growth & Accomplishments
---
We have grown in breadth and scope over the years and now provide more than 30 wrap-around programs and services under one roof for victims and survivors of child abuse and interpersonal violence.
Accomplishments 2012 & Beyond
LACASA introduces its Trauma Assessment Program to help abused children and teens who have experienced trauma in their lives. Professional teams work with teachers and parents to create a plan that helps youth thrive in school, at home, and in social settings.
We launch our Healthy Families program to serve new and expectant parents by providing an in-home visiting parent coach. These visiting coaches teach parents about what to expect during childhood development stages, and how to cope with the stress and challenges of parenting.
LACASA's Community Education Department establishes a Teen Advisory Committee (TAC), which provides high school teens with an opportunity guide initiatives and campaigns that speak to teen audiences about dating abuse, domestic violence and sexual assault.
We become the first agency of our kind in Michigan to adopt a Canine Court Advocate. Our black Labrador, Penny, provides comfort and emotional support for abused children when they are required to testify at legal hearings and court proceedings.
LACASA's Child Abuse Prevention (CAP) Council continues to grow its child abuse and child sexual abuse prevention programs throughout the community and in area elementary, middle and high schools.
Our Sexual Assault Response Center expands its services and gains certification to provide pediatric forensic exams for children under age 12.
LACASA Center opens the LACASA Collection in 2018 to enhance the agency's sustainability. The Collection is a unique resale boutique located in Howell. All merchandise is donated by agency supporters. The public shops at the store for great finds and clients shop for themselves and their children at no charge. The store also provides employment opportunities and job training for LACASA clients. All store proceeds support programs at LACASA Center.
In 2019, LACASA's Board of Directors recognizes that the agency is experiencing extreme overcrowding and critical space shortages. The board embarks on exploring and initiating a capital campaign to build a new forever home for LACASA.
LACASA's Community Education Department launches a new campaign in October 2020 for Domestic Violence Awareness Month. The GLOW Campaign, created by the agency's Communications Department, receives a national Purple Ribbon Awareness Campaign Award from sister agencies: Theresa's Fund and DomesticShelters.org.
In 2021, LACASA becomes a nationally accredited Child Advocacy Center and a member of the National Children's Alliance.
Also in 2021, the Community Foundation for Southeast Michigan selects LACASA as the recipient of the Richard F. Huegli Award for Program Excellence.
We mark two other significant milestones in 2021. Our agency celebrates its 40th anniversary, and LACASA's Court Appointed Special Advocates (CASA) program commemorates its 10th anniversary. A celebratory Electric Avenue: 80s Retro Party is held in October and LACASA presents a series of empowerment awards to long-time advocates for abuse victims and survivors.
Our evidence-based Parenting Program Workshops continue to garner attention—and attendance—and are recognized as highly-successful programs that provide parents with the information, resources and support they need to create strong family connections.
LACASA's Cinderella's Closet boutique expands in 2022 and opens at the LACASA Collection. High school students shop for affordable formalwear at this pop-up boutique, which is held annually during prom and homecoming seasons. All party dresses, gowns and formalwear are offered for just $25. Boutique proceeds benefit programs for teens at LACASA Center.
Our organization becomes the largest nonprofit social service agency in Livingston County, employing over 70 people.
LACASA continues the quiet phase of its "Lead the Way" Capital Campaign, which is a private fundraising initiative conducted by the agency's CEO, LACASA's Board of Directors, and LACASA's Capital Campaign Committee. During this phase, major funding is secured from private foundations and key philanthropic donors.
In 2023, LACASA raises nearly $12 million during the quiet phase of its Capital Campaign for the organization's new forever home.
The agency launches a community-wide public fundraising phase of the "Lead the Way" Capital Campaign in 2024.
LACASA officially completes the organization's move to its new forever home on Tooley Road in Howell in 2024.