Cleary University Hosts Two Events for Sexual Assault Awareness Month
Clothesline Project Exhibit
April 4 – 19
10:30 am – 3 pm, excluding Sundays
Cleary Commons
---
Clothesline Discussion & DIY Event
Wednesday, April 19
Noon – 2 p.m.
Cleary Commons
~ Listen to a speaker from LACASA
~ Create a T-shirt as a survivor, or in support of survivors
LACASA Center and Cleary University have partnered to present the Clothesline Project, which will feature two events this month in recognition of National Sexual Assault Awareness Month.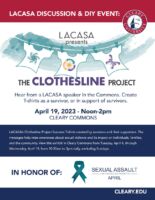 Cleary will host a multi-week Clothesline Project exhibit, as well as a Discussion & DIY event on April 19. Members of the public are invited to attend these free awareness events.
LACASA's Clothesline Project Exhibit features T-shirts created by sexual assault victims, survivors and their supporters. The messages conveyed help raise awareness about sexual violence and its impact on individuals, families, and the community.
At the Clothesline Discussion & DIY Event, the public will be invited to create a T-shirt to show support for victims and survivors.
"LACASA is pleased to collaborate with Cleary University to raise awareness about the impact of sexual violence on victims, survivors, their families, and the community," said LACASA Sexual Assault Response Team Manager Sherry Boroto.
"The Clothesline Project provides a sense of support for victims and survivors. We invite the public to attend the exhibit and the DIY event, and to join in creating T-shirts that give voice to this complex issue," Boroto said.
Cleary University is located at 3750 Cleary Drive in Howell. Learn more about Cleary at https://www.cleary.edu/
For more information about LACASA's programs and services for victims and survivors of sexual assault and sexual violence, visit the Sexual Assault Support area of our site.
Annual Garden Tour on July 8 ~ Help survivors bloom and take a tour of lush landscapes and private gardens throughout Livingston County